Tuesday, January 23, 2018
Posted by

elena maria vidal
at 2:00 AM
0 comments
Links to this post



The Call of St. Joan
From
TFP
:
Thus, the debate over DACA is not about children and dreams. It has turned these poor young people into hostages of a contrived narrative, using them as mere pawns in a bigger game—the charting of America's course as a nation and the determining of what role government will continue to have.
In this broader struggle for America's soul, liberals see DACA as an ideal battlefield. They have occupied the higher ground by wrapping themselves in the flag of fuzzy warm compassion. They have infused the issue with emotional hype, making rational debate impossible. This passionate framing of the narrative has divided conservatives. They are torn between Christian compassion and the need to uphold the rule of law. With the media as its willing partner, liberals see this conservative division as a win-win situation to be exploited....
Since the ocean of emotions is a battlefield upon which conservatives cannot win, they should pivot to where they hold the advantage. This new battlefield must be based both on the rule of law and on principled compassion. Accordingly, it should be informed by the following principles and considerations:


It is the natural right of the State to regulate immigration into its territories in the interest of the common good of its citizens. It also has the duty to protect the nation's best interests in the realms of defense, economy, health, culture, and social harmony and cohesion.

While every individual has a natural right to immigrate, this is not an absolute right enforceable against an established nation. From time immemorial, an immigrant's admission into a host country has depended and continues to depend on the approval of that nation's government. Government consent, freely given, is what distinguishes immigration from invasion.

The natural moral law obliges those who immigrate to respect the laws of the country in which they settle and to obey its government. (Read more.)
Share

The Dreamer Debate
An interview with Dawn Eden Goldstein from
The National Review
:
Lopez: What was prophetic about Father Francis Canavan?

Goldstein

: Canavan had a gift of discernment that enabled him to rightly judge the signs of the times. He also read the literal signs of the Times — the New York Times, that is — along with bumper stickers, everyday conversations, and other things that clued him in to what people were talking about and thinking about. In that way, he was able to identify trends in popular sentiment that were not adequately understood by many of his peers in the world of academia. In particular, Canavan dissected the philosophical errors that have led contemporary culture not only to embrace radical individualism but also take it to its logical conclusion in utilitarianism. Writing years before the Supreme Court decision in Obergefell v. Hodges, he had the foresight to observe that "the primacy of choice is wrecking our sexual morality, but not only that. At a deeper level, it is destroying our ability to have a social morality that goes beyond sexual conduct to question the right of any society to establish and maintain social standards on any other than utilitarian grounds." (

Read more

.)
Share
Posted by

elena maria vidal
at 12:00 AM
0 comments
Links to this post



A Jesuit for Our Times
Monday, January 22, 2018
Jackie
(2106)
I watched
Jackie (2016) starring Natalie Portman on Amazon Prime
and thought it to be one of the best Kennedy biopics I have ever seen. First Lady Jacqueline Kennedy is portrayed on the day of her husband's assassination followed by what seems to be almost a moment by moment struggle to keep herself together in the agonizing aftermath. I say "moment by moment" because it is easy to feel pulled into Mrs. Kennedy's anguish in which every minute must have seemed like an hour as her mind struggled to absorb the trauma. The senseless horror of her experience is given some meaning by her conversation with a Catholic priest (John Hurt), who says to her:
Jesus once passed a blind beggar on the road, and his disciples asked, Who sinned, this man or his parents, that he should be born blind? And Jesus said, Neither this man nor his parents sinned. He was made blind so that the works of God could be revealed in him. And with that, he placed mud on his eyes and told him to wash in the Pool of Siloam. And the man did, and he came back seeing. Right now you are blind. Not because you've sinned, but because you've been chosen. So that the works of God can be revealed in you.
I thought Natalie Portman portrayed Jackie as appearing too nervous and shy. Although she might have been so interiorly, in public Jackie conveyed a calm unruffled poise. Other than that, I thought Natalie Portman was superb in the role.
Godless (2017)
Godless
is a seven-episode Netflix production starring Michelle Dockery as the tough widow Alice Fletcher who helps defend a town of women against a band of murdering outlaws. The outlaws are led by the psychopathic Frank Griffin (Jeff Daniels), truly one of the most subtly terrifying criminals to darken the screen. Dressing like a minister and quoting scripture, Griffin and his gang thrive on sadism and cruelty; the opening scenes of the saga show a mining town in which every man, woman and child have been savagely murdered. As Griffin and his gang of godless wretches slowly make their way across the West several subplots surrounding the town of La Belle unfold. La Belle is where all the men died in a mining accident, leaving the women, children and old people to fend for themselves. The various story threads converge around Alice and the mysterious young man whose life she saves and whose presence transforms her family forever. While definitely not a family show,
Godless
is a searing portrait of a Western town in the midst of its own apocalypse.
Alias Grace (2017)
Based upon the Margaret Atwood novel of the same name,
Alias Grace
is not without a strong dose of radical feminism. All men are sexual predators on some level, while all women are oppressed by the structures and traditions of a patriarchal society. The bad behavior of the men is perhaps a bit exaggerated. In Victorian times, a man who knocked down his wife in public would be arrested for disorderly conduct, although in
Alias Grace
when Grace's mother is knocked down in public no one says a word, as if such behavior were considered acceptable. In spite of the Atwood agenda, the series is well-written, beautifully staged and costumed, with remarkable acting, especially on the part of Sarah Gadon in the role of Grace.
Based upon a true story
, Grace Marks,
a lovely young Irish-Canadian immigrant who has endured multiple traumas and losses
, finds herself accused and convicted of complicity in a pair of brutal murders. The drama focuses on a young doctor who comes to interview Grace at the prison in Kingston, Ontario, where she spends thirty years. The closer the doctor comes to unraveling the mystery of her guilt or innocence, the more her true nature eludes him. The story is told in flashbacks and is gradually pieced together like the patchwork quilts that Grace loves.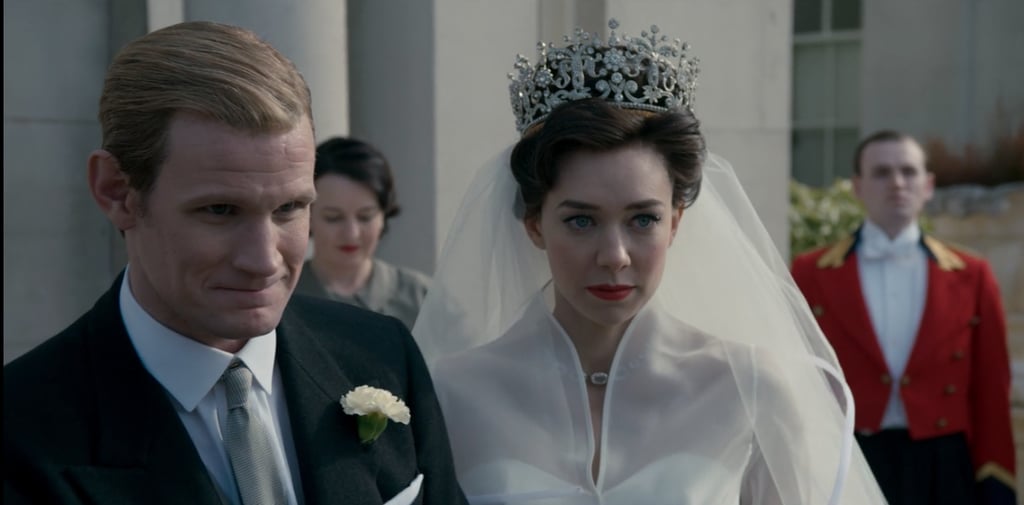 The Crown (Season 2, 2016-)
Based upon the life of Queen Elizabeth II, now gloriously reigning, The Crown is without doubt the crown jewel of all the Netflix offerings
. Season 2 deals with the ongoing marital problems of Elizabeth and Philip while the monarchy faces vociferous criticism from various quarters and Great Britain faces international humiliation. Elizabeth must grapple with both the expectations and the limitations of her role as a twentieth century constitutional monarch. In the meantime, her younger sister Princess Margaret seeks happiness and meaning in her own way. The episodes regarding Margaret's romance and marriage with society photographer Anthony Armstrong-Jones are the most sultry of the series so far. The episode which I found incredibly stirring is the one which portrayed both Prince Charles' and Prince Philip's years at the Gordonstoun School in Scotland, an experience which shaped both men in different ways. Along with the lively screenplay,
The Crown
can be enjoyed for the exquisite clothes, jewels, houses and furniture, and especially the scenes of the Scottish highlands.
The Magnificent Century (4 Seasons, 2011-2014)
The Turkish production
Muhteşem Yüzyıl
is based upon the sixteenth century life of Suleiman the Magnificent, sultan of the Ottoman Empire, and his marriage to the Russian Christian captive Alexandra, called Hurrem, who became his co-ruler. On one level the drama can be seen as a Turkish soap opera, and an extremely soapy one at that. However, it depicts the thriving slave trade of fair-skinned women that endured for hundreds of years in Central Europe and Asia in order to fill the harems of wealthy Turks with white girls. The story of Hurrem is the tale of a woman who through intelligence and determination overcame the life of slavery to which she had been condemned. Not only through brains and grit, but through the love she shares with Suleiman, she manages to become his legal wife and the mother of five of his children. In the meantime, every attempt is made by other members of the Sultan's household to destroy Hurrem. Most of the episodes deal with her ongoing power struggles with the Sultan's mother Hafsa and with Mahidevran, the mother of the Sultan's oldest son. The Sultan's grand vizier and brother-in-law Ibrahim Pargali also tries many times to ruin Hurrem and her influence with Suleiman but by doing so brings about his own destruction.
Muhteşem Yüzyıl
was a run-away success in the Middle East, but for some reason only Season 1 is available on Netflix. The entire series can be watched on
YouTube
but the later episodes are without subtitles. I found the synopses on Facebook which helped me to follow the drama,
HERE
.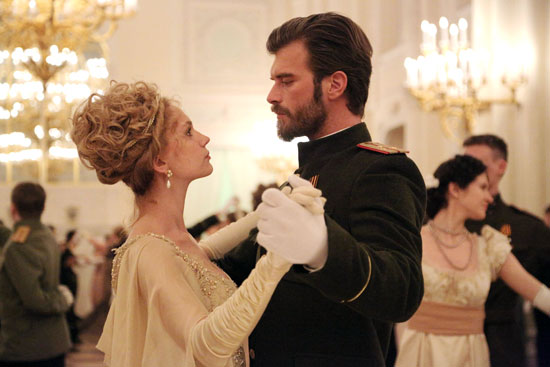 Seyit and Sura
(2014)
Kurt Seyit ve Sura
is
a Turkish production based upon the true story of Kurt Seyit Eminoff, a Crimean Turkish officer of Tsar Nicholas II, and his love affair with Russian countess Alexandra Julianovna Verjenskaya, called "Shura" or "Sura." Seyit meets the sixteen-year-old Sura at her first ball in St. Petersburg in 1916, even as World War One rages and Russia totters on the brink of violent revolution. The two fall hopelessly in love and, in spite of family efforts to keep them apart, run away together to the Crimea. When Seyit's parents are murdered by the local Bolsheviks he is consumed by guilt for defying his father and choosing Sura instead of a Moslem girl. He postpones marrying her, even after they escape Russia and seek sanctuary in Istanbul. There they openly live together at an inn run by a devout Moslem family, who encourage them to marry. At the inn, Seyit and Sura and their friends become entangled in the problems of post-war Turkey and are continually haunted by the past so that they seem unable to face the future together. The rest of the series traces the ups and downs of their relationship amid social chaos and upheaval, as certain "friends" do whatever is necessary to destroy their trust in each other. It is ultimately a tale of many tears, as Seyit and Sura are unable to be together in spite of an undying devotion.
The White Princess
(2017)
The sequel to the Starz production of
The White Queen
,
The White Princess
reprises the Philippa Gregory interpretation of the Wars of the Roses and the early years of Tudor England. It is 1485 and Richard III has been slain at Bosworth Field as the new Tudor king, Henry VII, consolidates his rule by marrying the Plantagenet princess, Elizabeth of York. There are several liberties taken with history, such as Margaret Beaufort being portrayed as a serial killer, and Henry and Elizabeth traveling to Spain to meet with Isabel and Ferdinand. As in
The White Queen
, the writers insist upon using modern nicknames such as "Lizzie" and "Maggie" instead of "Bess" and "Meg" which were more likely used. However, the drama does well in capturing the sense of chaos and displacement that must have been experienced by the York princesses and by their mother, Queen Elizabeth. In a few short years they had endured the deaths of Edward IV and the princes, a declaration of illegitimacy, and now the complete fall of the House of York. The young Elizabeth must now be wife to the enemy of her family, Henry Tudor. She is resolved to work for the House of York in secret, but unexpectedly she finds herself coming to love Henry and thus is naturally protective of their growing family. She is eventually placed in an agonizing position of having to choose between Henry and a young man who claims to be her long lost brother Richard of York. No matter what she chooses, there will be tears.The tragic circumstances of Margaret Plantagenet Pole and her brother Edward of Warwick are also heartrendingly depicted. While it is not a family film, it may be enjoyable to some history buffs.
Share
Posted by

elena maria vidal
at 2:00 AM
0 comments
Links to this post



Favorite Movies and Shows of 2017, Part Two
As a Republican. From
The Federalist
:
Yes, I was in despair, but I was also outraged at not being understood for views that felt so plainly obvious to me logically and experientially. These were not pie-in-the-sky views I was advocating in order to provoke. The Affordable Care Act has made medical treatment of my bipolar disorder more expensive than ever. Under the nuclear agreement, Iran flagrantly continues to enrich uranium and fund terrorist activities.

As a small business owner, I am regularly assaulted with financially crushing, nonsensical red tape and bureaucracy, much implemented as lip service to environmental protection. With few exceptions, every one of my good friends feels more economically hopeless after the "recovery" than before, and abject homelessness on the streets of my beloved city has swelled to egregious levels.

In desperation, like a closeted teenager sneaking into a porn theater, I surreptitiously began to explore the forbidden territories of Fox News and other conservative outlets. Incredibly, I found myself agreeing more often than not. (Read more.)
Share

Coming Out
How they stay tidy. From
Nesting Place
:
1. Tidy People don't act like a slob all day, and then get their house tidy in one fell swoop.
Tidy People are smart, and know that cleaning up all at once is hard and not fun.

I'm my biggest enemy when it comes to keeping my house tidy. The number one thing I've learned from Tidy People is how valuable it is to develop some simple, non-drastic, tiny habits that when added together will change the level of tidiness in your home.

Tidy People are in a constant state of low-grade tidying, I don't even think they realize it. (Read more.)
Share
Posted by

elena maria vidal
at 12:00 AM
0 comments
Links to this post



People with Tidy Homes
Sunday, January 21, 2018
January 21, Saint Agnes day, is the
dies natalis
of the Roi-Martyr, when two hundred and twenty-five years ago, Louis XVI was taken from the Temple prison to be guillotined. The previous night he had said farewell to his family, and their reaction was so hysterical that he decided not to see them again in the morning, for fear of faltering in his own courage. His fifteen year old daughter fainted. He rode to his death in a coach accompanied by the Irish priest,
Abbé Edgeworth de Firmont
, who had been Madame Elisabeth's confessor and who had refused the oath to the government. Together they recited the seven penitential psalms, as described in the novel
Trianon
.
Arriving at the scaffold, the executioner tried to bind Louis' hands behind his back but he resisted, not wanting to be treated like a criminal who might try to run away.
Abbé Edgeworth,
fearing the king might be struck, convinced him to submit to the indignity by saying that it was one more way in which he resembled his Master. Louis raised his eyes to the sky as if seeing beyond this world and then with hands bound he ascended the scaffold unassisted. The drummers drowned out his last words to his people.
Some observers later reported that Abbé Edgeworth cried out,"Ascend to heaven, son of St Louis!" although the priest said he did not remember, being overwhelmed. Many ran forward with handkerchiefs to dip in the king's blood, as the executioner raised the head aloft, making obscene gestures. Some of the handkerchiefs were later preserved as holy relics. The king's last words were:
"I die innocent of all the crimes imputed to me. I pardon the authors of my death, and pray God that the blood you are about to shed will never fall upon France."
The forgiveness of Louis XVI
.
His widow.
The Vow of Louis XVI
.
Memoirs of Abbé Edgeworth
Attempt to Canonize Louis XVI.
Share
Posted by

elena maria vidal
at 2:00 AM
4 comments
Links to this post



Execution of Louis XVI
From the
City-Journal
:
At the height of the 1964 race between Arizona's junior senator, Barry Goldwater, and President Lyndon Johnson, the cover headline of Fact magazine's September–October issue practically screamed: 1,189

PSYCHIATRISTS SAY GOLDWATER IS PSYCHOLOGICALLY UNFIT TO BE PRESIDENT!

Inside, every page was given over to the feature, titled "The Unconscious of a Conservative: A Special Issue on the Mind of Barry Goldwater."

Forgotten today, Fact even then was far from a major player on the journalistic scene. It had launched earlier that year and would survive just until 1967. Still, it enjoyed a status among the day's progressive bien pensants far beyond what its limited circulation might suggest. Edited by the profession's reigning provocateur, Ralph Ginzburg, its early issues had generated buzz with ahead-of-the-curve investigations of the tobacco and soft-drink industries, as well as American policy in Vietnam.

The issue's introduction set the tone for the 63 pages to follow. Ginzburg described Goldwater as the product of a "sadistic childhood," a "paranoiac" with an "obsessive preoccupation with firearms" who "compulsively must prove his daring and masculinity," adding that "psychoanalysts who find a connection between sadism and an anal character will not be surprised that bathrooms seemed to fascinate Goldwater."

The "psychiatric evaluations" that took up the next 40 pages were in response to a question that Fact sent to the nation's psychiatrists from a list supplied by the American Medical Association: "Do you believe Barry Goldwater is psychologically fit to serve as President of the United States?" Ruth Adams of New York replied that she saw in the GOP candidate "a strong identification with the authoritarianism of Hitler, if not identification with Hitler himself," and other responding psychiatrists echoed that theme. "I believe Goldwater has the same pathological make-up as Hitler, Castro, Stalin and other known schizophrenic leaders," wrote Chester M. Johnson, Jr., of Long Beach, while Philadelphia's Paul Fink observed that, like the Führer, the Republican nominee "appeals to the unconscious sadism and hostility in the average human being." G. Templeton, of Glen Cove, New York, warned that "if Goldwater wins the Presidency, both you and I will be among the first into the concentration camps."

That the entire exercise was ethically dubious was apparent at the time. As longtime Goldwater advisor Stephen Shadegg noted in disgust, "Those who presumed to reach a medical and psychiatric conclusion about Goldwater without ever having seen him or followed any other of the normal procedures required in a patient-physician relationship betrayed themselves as men unfit to practice any profession." But the feature drew widespread attention via the media coverage that it generated and full-page ads in the nation's leading dailies—Goldwater's people rightly wondered how a modest publication afforded their $100,000 cost—and it undeniably did real damage. (Read more.)
Share

The Goldwater Takedown